Your personal birth chart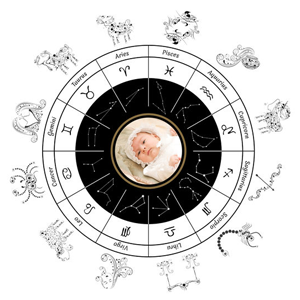 Create this extraordinary gift here! After entering the name, place of birth and date of birth, if possible with the exact time of birth, an individual and unique birth chart will be created. For the cover picture, a photo of the child can be uploaded. All entered data will be treated confidentially and will be used exclusively to create your horoscope interpretation.
After entering the necessary information, the birth chart will be created online immediately without registration (duration approx. 2 minutes). Then you can choose between the printable version for US$17.90 and the free, non-printable preview version.
The individual steps to your baby birth chart:
The birth chart is individually created for you online immediately (duration approx. 2 minutes)
When we're done, you can choose between:

A printable PDF for  US$17.90
A free, non-printable preview PDF using a note that says "for free"

The following payment options are available for the printable PDF: Paypal, credit card
You can download the PDF
Each horoscope interpretation covers around 30 to 40 pages. The finished horoscope with detailed information is beautifully designed and printable via PDF file in high resolution and in color. The baby birth chart is illustrated in color and matched to each individual interpretation.
The document can be printed both in color and in black and white. Stapled or bound, it is a very personal gift for the child as well as for the parents.
The interpretation includes descriptions and analysis texts about the sun sign and the ascendant, the distribution of the elements and the planets in the houses. The reader will learn many things about the outer and inner being of the child, its nature, emotions, weaknesses and strengths, attributes and talents, actions, and interpersonal behavior.
Start now >